So finally, I have built my Chu Moy's headphone amplifier. An amplifier with Burson Audio Vivid single hi-fidelity single opamp, with amazing sound. Check the website for details at https://www.bursonaudio.com/products/supreme-sound-opamp-v6/. One can use dual opamp Burr-Brown OPA 2132/2134, but I have used the original circuit from Chu Moy's with 2 single opamp OPA 132/134 since I already had the Burson Audio Opamp which gives a much better sound.
I have previously made a headphone amplifier with OPA2134, in an enclosure that contains the amplifier, Modified Linkwitz Crossfeed, lithium battery charger and a USB phone charger included. I liked the sound but wanted much more.
If anyone interested to build one using Chu Moy's circuit, here's a website where it explain in details https://tangentsoft.net/audio/cmoy/. Check it out.
There are many variations of Chu Moy's headphone amp and are also sold via eBay and amazon as kits, which are pretty cheap available with different opamps. None of them come with Burson audio opamp though!. For those who are interested, google Chu Moy's headphone amp and it should take you to few websites like the DIY audio. However, the one by tangentsoft is in details and easy to follow.
As for the crossfeed – there are several different publicly available crossfeed circuits. They all have different, sound, and different level of complexity to build. I like Chu Moy's version Modified Linkwitz crossfeed, it is easy to build, sounds good and has low requirement on the surrounding circuit. Now, what is crossfeed? – Crossfeed is the process of blending the left and right channels of a stereo audio recording. It is generally used to reduce the extreme channel separation often featured in early stereo recordings (e.g., where instruments are panned entirely on one side or the other), or to make audio played through headphones sound more natural, as when listening to a pair of external speakers as defined by Wikipedia. It helps when listening to headphone for too long.
I have been thinking of adding a 3 band equalizer, but after going through many audiophile websites, and reading various comments I have decided not to, it makes the amp little too big too to carry around.
There are different ways to build this simple amp.
Buy a kit from eBay/Amazon or just buy the parts from Jaycar electronics or any electronics store, though some parts may need to be ordered such as the Burson audio opamp, and since this amp requires a dual-voltage supply (e.g. ±12V), therefore the power supply is "split" from a single source and behaves like a dual supply. There are many circuits available, but unfortunately, some of the parts of these various circuits are not available in South Australia – so I stuck to the original design by Chu Moy. I haven't had any problem yet, using a 2 X Lithium-ion rechargeable 18650 type with high mAh which gives a good long listening time. Since these batteries are 4.2V, using 2 gives us about 8.4V, but I like to use 12V, and a DC to DC converter is easily available to use. After using Lithium batteries in both my amp, I haven't had issues with additional noises or hisses. The other option as described by Chu Moy is to use a 2 x 9Volt battery in series giving about 18V.
If interested to know more about PCB designs, they are available at easyEDA.com website. Search for Chu Moy headphone amplifier or design your own and order a PCB. I went with simple breadboard type PCB. Also point to point connection is possible, there is a beautiful tutorial here https://www.instructables.com/id/Crystal-cMoy-Free-Form-Headphone-Amplifier/and that is my next build I should say. I am designing with Volume control and Crossfeed which probably is going to take some time. But it's one the most beautiful home-made DIY electronic build I have seen yet.
First Amplifier
This is one is with OPA 2134, the enclosure is simple and packed with a rechargeable battery, USB charger for mobile phones and a crossfeed.
The circuit for this first amp is from JDS Lab with Bass Boost. The power supply I used is the original simple split-rail supply not the one in this circuit.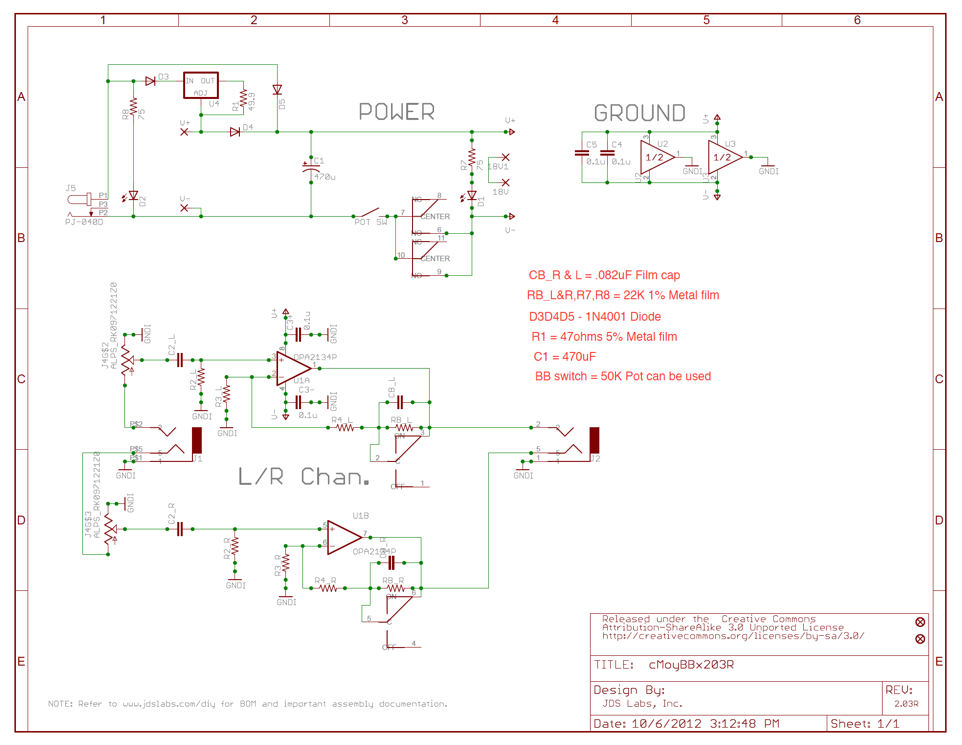 New One
And this is the new one without the enclosure, with the Burson Audio opamp, crossfeed and yet to include rechargeable batteries. The sound is amazing, but it took few days to plan out the circuit and to make it as small as possible so I could carry it around.
Many circuits are available through web… and this is the original Chu Moy's circuit with single opamp, single channel. And I replaced the OPA132 with Burson Audio Vivid single opamp which I had a pair of them.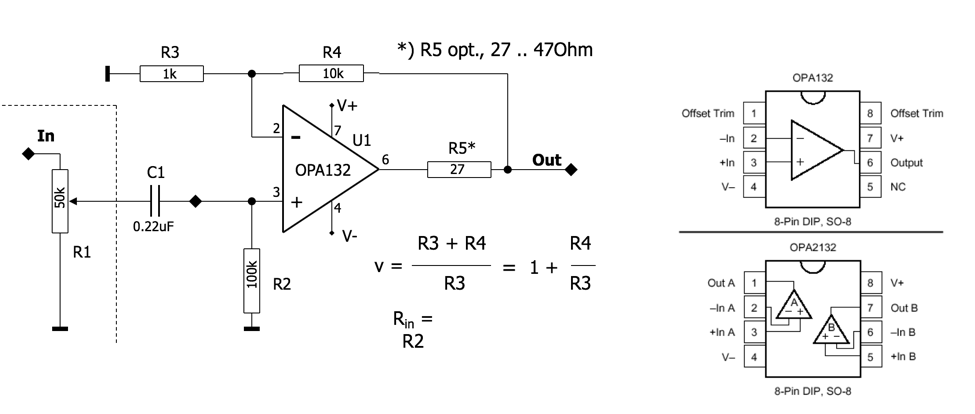 Following is the circuit for power supply, which is very simple yet effective!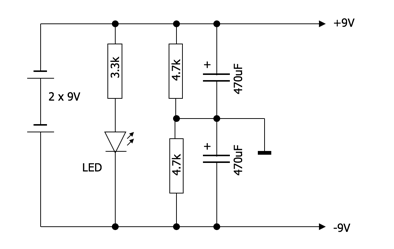 Also used modified Linkwitz crossfeed as described by Chu Moy in his article.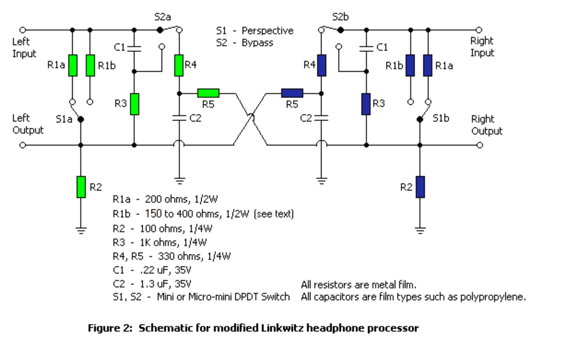 Audio Opamps

I would advise you to go through some of the websites to tweak the circuit according to your headphone, remember guys, headphone amp is for over-the-ear headphone, not designed for ear phones and please do not use with ear phones it may destroy them.
For any DIY electronics build, planning is very important, knowing the circuit helps and drawing the plan out beforehand is also useful. Take notes, some resistors may need to be tweaked accordingly. It is not necessary to use the crossfeed, the amp itself is sufficient and helps to keep it smaller, as shown below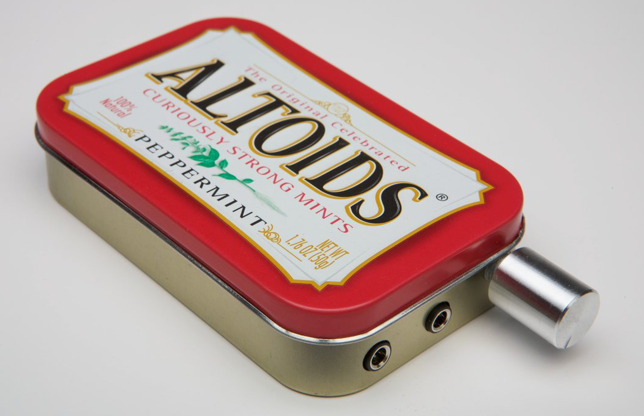 This one is the most commonly used enclosure without the crossfeed. To note is to use high quality resistor and capacitors.
In high-end audio equipment, careful selection of resistors is one of the best ways to avoid or minimize noise and distortion in the signal path. Good quality components will be noiseless and with better sound fidelity. Size of the enclosure matters as well, if listening to music daily and to carry around the amplifier in the pocket.
Building this amp is simple, easy and takes about half a day, but I will definitely replace the opamp with the Burson audio opamp, it's worth the price, the sound is much better and crisper. But don't forget to use headphone with minimum impedance of 32ohms or more, the higher the better, some people has use higher impedance like the Grado, AKG k72, Sennheiser 600 etc.
Well… try it out and enjoy the music, get a nice headphone, connect your DIY amplifier and enjoy.