Shepherd's pie with an Indian twist
Sep 17 2013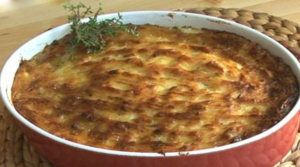 Or also known as Cottage pie is a meat pie with a crust of mashed potato. Essentially known as Poor mens food. The term shepherds pie appeared in 1877 and since then it has been used synonymously with cottage pie, regardless of whether the principal ingredient was beef or mutton, more recently the term, Shepherd's pie has been used when the meat is Lamb.
And that I think most of us can easily make a shepherd's pie, this is a variation from the norm with ingredients of indian masala and a touch of making the mash potato favorable.
Ingredients:
Mince Lamb – 500gm
Potato – 1kg
Red onion – 2 peeled halved and thinly sliced (live aside some)
Tomato – 3 (or 1 tin tomato 400gm )
Garlic – 4-5 cloves – peeled and thinly sliced (live aside some)
Ginger paste 2tsp (live aside 1/4)
Cumin seed 1/2 tsp
Garam masala – 3-4 tsp
Ground cinnamon – 1/2 tsp
Nutmeg ground – 1/2 tsp
Turmeric 1/4tsp
Chili powder 1/4tsp
Ground Coriander – 1 tsp
2 celery sticks, trimmed and finely chopped
200ml of Chicken stock
Mixed frozen vegetable – as required
Fresh Chili – 1-2 (as required)
Capsicum – 1 large, cut into strips
Fresh coriander
Butter or Pure Indian Ghee – 50gm (live aside half)
Vegetable oil – 2 tbsp
Frozen/fresh Green peas – as required
Salt and freshly ground black pepper
1 pinch of black mustard seeds
Preparations
Peel,cut the red onion into half and slice it thinly. Cut the capsicum into halves and slice into strips. Peel and chop the garlic. Chop the fresh tomato or use 1 tinned tomato. Deseed the chili and chop coarsely.
Put a deep and wide frying pan on high heat and add 2 tbsp of oil and half of the Ghee or butter. Then fry cumin seeds, onion, garlic, ginger, fresh chili until a yummy aroma appears. Add the minced lamb, breaking up the lumps with a wooden spoon. Add the garam masala (be careful with this masala, it can be spicy), cinnamon, nutmeg, ground coriander, celery, turmeric, chili powder and fry for about 5-10 mins keeping it moving around the pan until light brown ad cooked, then add the vegetables, tomatoes and chicken stock. Reduce to low heat and stir occasionally until a lovely aroma appears, for about 10 mins.
Meanwhile one should be boiling the potato, cut into halves and add some salt.
Preheat the oven to 180°c
In a large saucepan, add the remaining butter or ghee, pinch of black mustard, left over onion, garlic, ginger and finely chopped coriander leaves, until it smell fantastic. This is to be added with the potatoes when it being mashed. Once the potatoes are cooked, drain then tip the potatoes into the pan. Turn of the heat, add the fried spices mention above, add a pinch of salt and pepper and coriander leaves than mash everything together really well.
Stir your peas through the spicy mince mixture, season with salt and pepper than transfer the mince to an ovenproof baking dish, making sure you have a fairly even layer. Layer the potato mash on top of the mince and carefully spread it out with the back of the spoon so you have got an even layer. Use a fork to fluff up the top of mash. Drizzle the pie with a little olive oil and sprinkle with a small pinch of salt and pepper.
Cook in the oven for around 45 minutes or until bubbling, hot through, the golden and crisp on top. The pie is ready to be served hot with a taste and smell which will make everyone happy and talking indeed. Enjoy.
Jhaal Moori
Aug 27 2012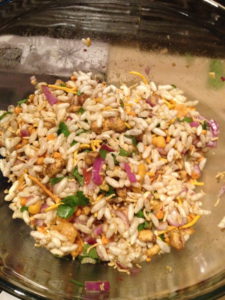 It's a blessing to be born and brought up in a cosmopolitan city like Mumbai where you meet friends from pretty much most of the states of India and you get to taste all the regional delicacies. Having travelled all around India, the regional snacks that are available are intense and just mouth-watering. So I thought let me start with my favourite, The Jhaal Moori or the Bengali Bhel.
Jhaal means Hot with chilli. This is wonderful evening tea snacks with friends or with some wonderful Shiraz which it goes well with.
So I was decided to make "Jhal Moori" or Bengali bhel with the authentic mustard oil as an accompaniment as a starter, while we had some friends for dinner.
So here is it, Get a lovely bottle of Shiraz, and prepare this snack just before the guests arrive (about 10-15 mins). One can put all the ingredients in a large bowl before mixing it, and mix them when the guests have arrived. Meanwhile heat the mustard oil as well, when it will be cool down to room temperature.
Jhaal Moori (Bengali Bhel)
Ingredients
500gm puffed rice/puffed moori
tomato, chopped small
cucumber, chopped (optional)
1-2 green chillies or more as hot one likes, chopped
1/2 onion, chopped into small 1cm size
1/2 lemon
1-2 tbsp mustard oil
1-2 tbsp handful of sev/bhujia, fried masala chana dal, fried peanuts ( I prefer Haldiram, an Indian brand of spicy snacks that are easily available in all Indian grocery shops in Australia) and any kind of Bhujia mixture. Depending on the number of people, adjust this ingredient, they should not be overwhelmed with the total mixture.
1 tbsp coriander leaves, chopped
salt and pepper to taste
A generous pinch of chaat masala (optional)
Method
1. Heat mustard oil to smoking hot. Cool it to room temperature.
2. Mix all the ingredients except the mustard oil.
3. Pour the mustard oil on the mixture.
4. Adjust salt and pepper.
5. Serve immediately.
Note –
1. If using chaat masala, please note that it already has rock salt, so adjust salt accordingly.
In my opinion, for the real flavour, do not substitute mustard oil with anything else. You need to use that pungent mustard oil only.
Enjoy the dish, it gives you the freshness, the pungent-ness of mustard oil, spice from the chillies and the crunchiness from the mixtures.
Pepper Crab
Aug 23 2012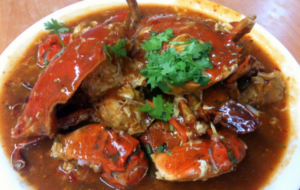 Ingredients:
3 tablespoons ketjap manis
3 tablespoons oyster or fish sauce sauce
3 tablespoons caster sugar
2 kg raw blue swimmer crabs
1 1/2 tablespoons oil, 1 1/2 tablespoons butter
1 1/2 tablespoons grated fresh ginger, 6 garlic cloves – minced
finely chopped 1 -2 red chile,
finely chopped/grinned 1 1/2 tablespoons black pepper
1 1/2 teaspoons white pepper – grinned
1/4 teaspoon ground coriander 2 spring onions,
finely chopped 1/4 cup chopped fresh coriander
3-4 fresh tomato chopped in small pieces
A small stem of Lemongrass
Directions:
1.Put kecap manis, oyster sauce, sugar and 3 tablespoons water in a small bowl, stir, then set aside.
2.Pull back the apron of each crab, remove the top shell, then intestines and feathery gills. Rinse quickly and thoroughly.
3.Cut each crab into quarters and crack the legs gently so the flavours can enter.
4.Heat the oil in a very large wok over high heat; add the crab pieces and stir fry in batches until the shell is bright orange and the meat almost cooked (about 5 minutes). Remove and repeat until all are cooked.
5.Add the butter, ginger, garlic, chilli, black and white peppers, chopped lemongrass and coriander to the wok; stir fry for 30 seconds. Then add chop tomatoes – fry another 30 seconds
6.Add the sauce mixture and stir; bring to the boil, then simmer for 2 minutes.
7.Return the crab to the wok and toss it to the coat in the sauce. Add Fish stock as required whether to make it dry or ample of sauce. (Sauce is nice when one eats the crab with some rice)
8.Cook a further 2-3 minutes to finish cooking the crab then garnish with the spring onions and coriander leaves.
9.Serve with a bowl of warm Basmati rice
Roasted Asparagus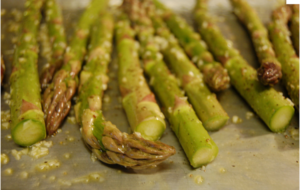 How important is cooking of an Asparagus? It is as we know it. If not done properly they are not very nice to eat. Here is a nice recipe that I have tried and enjoyed, there are many ways to cook. This is how I did in my own ways.
INGREDIENTS
3-4 bunch of asparagus spears (thick spears are best for roasting)
1-2 Tbsp olive oil
2 tsf of black pepper, 2-3 whole cloves, 2-3 cardamom – all of them grinned together
2-3 cloves of garlic and a small piece of fresh ginger (to your taste) – minced them together
Kosher Salt
Lemon juice
Fresh Basil leaves
1 Preheat oven to 180°C. Rinse clean the asparagus. Break the tough ends off of the asparagus and discard.
2 Lay few Basil leaves then the asparagus spears out in a single layer in a baking dish or a foil-covered roasting pan. Drizzle olive oil over the spears, roll the asparagus back and forth until they are all covered with a thin layer of olive oil. (Alternatively you can put the asparagus and oil in a plastic bag, and rub the bag so that the oil gets evenly distributed.) Sprinkle with minced garlic and ginger, salt, pepper with the grinned mixer. Rub over the asparagus so that they are evenly distributed.
3 Place pan in oven and cook for approximately 15-20 minutes, depending on how thick your asparagus spears are, until lightly browned and tender when pierced with a fork. Once cooked take it out from the oven and let it cool for 5 mins before serving, (Do not keep warm in the oven, it will shrivelled and soft) keeps the asparagus crisp.
4 Drizzle with a fresh lemon juice before serving.
Ragan Josh
Jan 19 2012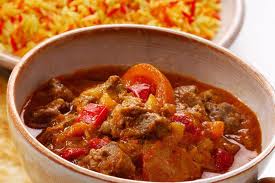 Rogan Josh recipe is an adaptation of a traditional Kashmiri recipe. Rogan Josh is a well known Indian goat curry but was first brought to India by the Moghuls. This Rogan Josh recipe uses many Indian spices and, whilst recipes vary widely, even in India, will give you an authentic taste of this wonderful Indian curry. You can therefore adjust the ingredients according to your personal preferences. In Persian, Rogan means "oil". Josh means "hot".
Beef or Chicken may be substituted for the goat if preferred.
I prefer to change the ingredients as I like and therefore it will be a little different if you look online. I do add tomato and usually marinate the goat with vinegar 2-3 tbsp, some turmeric and chilly powder for about 30mins and if you don't like the tanginess one can drain the remaining vinegar.
Ingredients for Rogan Josh Recipe (Serves 6)
1 Kg Lean goat cut into cut into small chunks
3 Tbsp Olive oil/vegetable oil and 2Tbsp Ghee
150 ml Plain, unsweetened yogurt
4 medium onions, roughly chopped
4-6 Garlic cloves, peeled and roughly chopped
2.5 cm fresh ginger, peeled and roughly chopped
4 green cardamoms
4 Large red dry chillies
4-6 Cloves
3 Tsp Paprika
2 Tsp Cumin seeds
2-3 Fresh Tomato cut in cubes
2 Tsp Coriander powder
2 Bay leaves
2.5 cm Cinnamon stick
1 Pinch of salt
1/2 Tsp Garam masala
Pepper for seasoning
Fresh coriander, finely chopped (for garnish)
150 ml Warm water or Chicken or vegetable stock
Method
1. Cut the onions into small pieces
2. Heat the Oil and ghee in a large casserole dish until very hot and add the onion and Chopped Garlic. Cook for about 4 minutes
3. Grind together using a Grinder or Mortar and Pestle, the ginger, dry red chillies, cinnamon, cardamoms, cloves, coriander, paprika, cumin and salt until a stiff paste.
4. Add the spice to the onions. Stir well. Add the Bay leaves and pieces of tomato. Cook for 2 minutes or until fragrant.
5. Add the chopped pieces of Goat and continue to cook for 10-15 minutes
6. Stir in the yogurt slowly, stirring all the time
7. Add the warm water/stock. Season with pepper and nutmeg powder. Stir well and bring back to a simmer for about 30-40min occasionally stirring the curry, be careful that the gas is kept at low flame, and don't forget to stir otherwise bottom part may burn.
9. Cook for until the lamb is tender, stirring occasionally and adding a little extra water if the curry looks too dry. It may take time sometimes about 1-1 half hours.
10. Spoon off any excess oil from the surface. Stir in the Garam masala and sprinkle with the coriander. Serve.